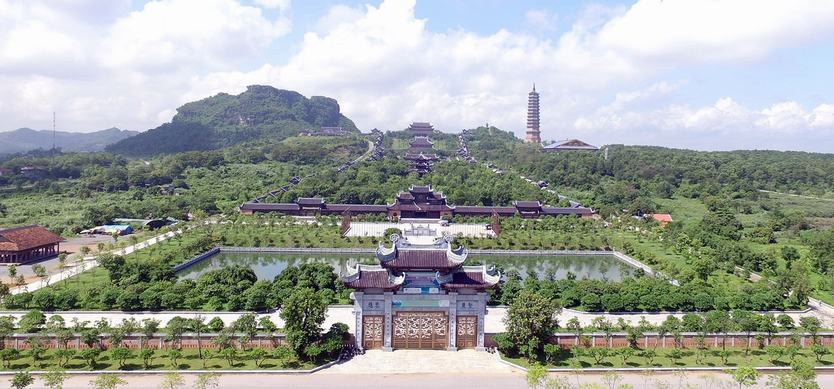 If you are planning a Vietnam tour, then Trang An- Bai Dinh - a World Heritage Site will be your ideal choice. Being one of the largest Vietnam temples, Bai Dinh is becoming well-known for being an attractive destination for many domestic and foreign tourists. Let's explore and experience this destination with our travel guides.
General information
Bai Dinh Temple is located on the sacred land at Sinh Duoc, Gia Sinh, Gia Vien, Ninh Binh, about 100km from Hanoi. It is a popular destination, attracting a large number of visitors every year. Bai Dinh Temple has the largest area in Vietnam with 539 hectares including 27 hectares of ancient Bai Dinh temple, 80 hectares of new Bai Dinh temple built in 2003 and other items such as Public cultural and Buddhist Academy, roads and car park, Dam Thi Lake, etc. The majestic limestone mountains surround Bai Dinh temple.
Bai Dinh Temple is also known for its many Vietnamese and Asian records. It was established as the giant gilded bronze Buddha statue in Asia. The temple also has the longest La Han corridor as well as the largest bronze Di Lac statue in Southeast Asia.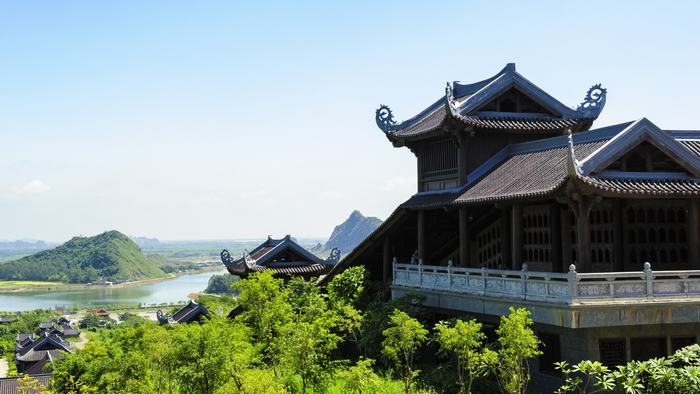 Bai Dinh Pagoda
The best time to visit Bai Dinh Temple
According to customary, Vietnamese people often go to worship pagoda on the occasion of the new year. Therefore, Bai Dinh temple as well as and other temples attracted a lot of visitors to pour into in the spring, especially the new year's days. In this time, the weather is quite beautiful, cool and fresh.
In particular, Bai Dinh has many festivals taken place during spring. You should choose the new year's days to enjoy the complete spring atmosphere. However, you can also visit Bai Dinh Temple at other times of the year to avoid the crowds.
How to get to Bai Dinh Temple
From Hanoi about 110km, there are two roads to visit Bai Dinh in Ninh Binh:
Option 1: In Ninh Binh, you follow the road to Dinh Le relic site, turn left at the end of the road, go to the dike then turn left, then go straight ahead to Bai Dinh Temple.
Option 2: Go to Ky Lan Mountain (Television Station of Ninh Binh province), turn right and then follow the instructions, you will go to Bai Dinh Temple and Trang An tourism area.
If you do not have a motorbike, you can also take the car from Hanoi to Ninh Binh about 60km. You can also tell the driver to turn to Bai Dinh, then get off and continue to catch motorbike taxi or taxi.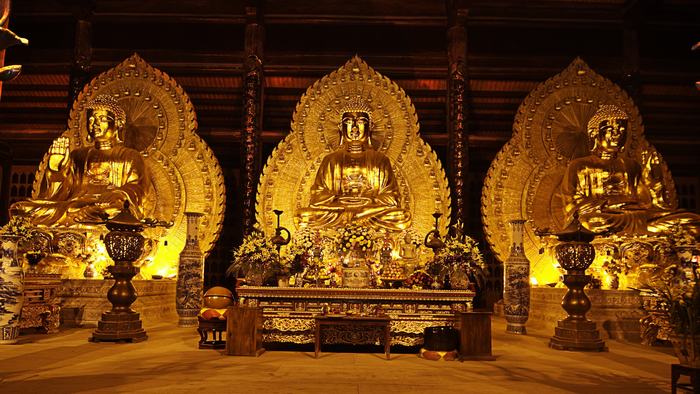 The golden statues in Bai Dinh Pagoda
What to eat in Bai Dinh Temple
Coming to Bai Dinh, many tourists will eat vegetarian food. You can go to Tam The Hall to eat this kind of food. Also, Ninh Binh also has many specialties food which attracts visitors. There are a lot of strange and unique dishes such as mountain goat meat, fried rice, Yen Mac fermented pork roll. These dishes enjoyed with a glass of Lai Thanh Kim Son wine will be great. Also, in Ninh Binh, you can also find many eating places and restaurants serving many traditional dishes of Vietnam.
Some tourist attractions in Bai Dinh
The community of Bai Dinh Temple
Visitors will be overwhelmed by the grandeur of this Buddhist work. The architecture of Bai Dinh Temple is prominent with large cubes bearing the impress of Vietnamese architecture.
The Dharma Temple
The Dharma Temple is a massive structure in the community of Bai Dinh Temple. It consists of 5 compartments. The middle compartment is very wide. In the central compartment, there is a bronze statue with a height of 10 m and the weight of 100 tons on the high platform. It is the largest bronze statue in Asia.
From the Dharma Temple, tourists go to Tam The Hall. It is the most magnificent architectural work in Bai Dinh and also the largest Buddhist shrine in Vietnam today. Tam The Hall has three curved roofs and 12 roofs on four sides, 30m high. In Tam The Hall, there are 3 Tam The bronze statue, each statue weighs 50 tons.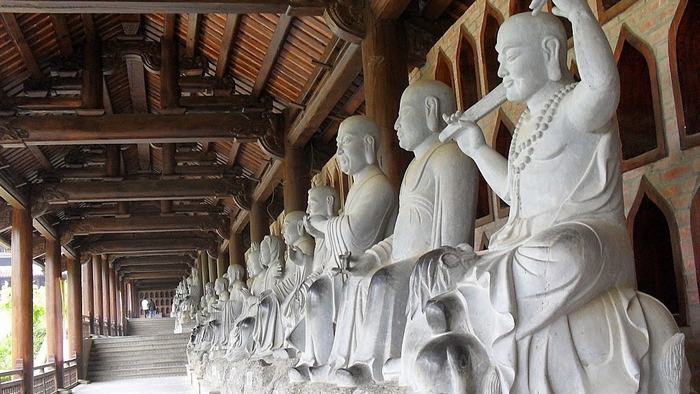 The Buddha statues in the corridor of the pagoda
The bell tower
The bell tower in Bai Dinh Temple is located on a high hill. The special feature of the bell tower in Bai Dinh that probably none of the temples in Vietnam has is a bronze drum with the largest size and volume of 70 tons in Vietnam. Dai Hong Chung is located in the bell tower with a weight of 36 tons is confirmed as the largest bell in Vietnam.
Bai Dinh temple has become the largest center of spiritual activities in Vietnam and Southeast Asia. From the top of the majestic mountain, overlooking the vast natural landscape, you will find your soul tranquil. If you want to know more information about Vietnam group tour, feel free to contact us via our website. Share it if it is useful to you. Have a great trip!